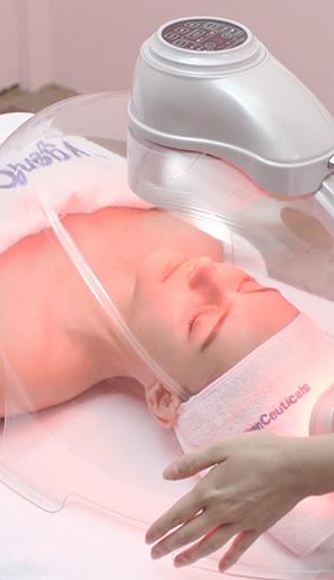 5-star Astrodome Oxygen Facial™ with LED + NIR, Radio Frequency + Microcurrent
110 minutes or 75 minutes (see below)
We start with a luxurious cleansing facial massage followed by skin exfoliating enzymes. Next, Radiofrequency therapy is used to tighten the skin, while Microcurrent lifts and tones. Both treatments stimulate collagen and elastin production.
Following the lifting, toning and tightening, the Astrodome™ Oxygen Bubble and LED light relaxes and detoxifies your skin inside and out. It separates the nitrogen, and pumps 90% oxygen through the dome to be absorbed by your skin. It helps fight against free radicals, balance the skin's pH and repair damaged cells. Negative ions are effectively used to clean the air of allergens, pollen, mold spores, bacteria, and more. As a result, acne-causing bacteria are destroyed, collagen production is stimulated, nutrient intake is supported, and the tone and texture of the skin is significantly improved.
LED is renowned for improving blood flow, stimulating the production of energy within cells and helps decrease inflammation The benefits are calming, anti-bacterial/inflammatory, and collagen supporting. Additionally, Near Infrared (NIR) Technology allows for deeper penetration and activates mitochondria to generate ATP- more energy in the cell. We finish your Astrodome 5-Star facial experience with a concentrated vitamin cocktail serum spray specific for you.
5-star Astrodome Oxygen Facial™ with LED and NIR
75 minutes 
Advanced oxygen technology from Korea gives you the ultimate facial experience for all skin types including sensitive and compromised. Oxygen helps bring life into the cell, purifies and stimulates metabolism and boosts skin's immune system. The dome is relaxing and you feel revived. Your skin is brightened, and collagen boosted. It's antibacterial properties aid in wound healing, sebum reducing and balances the pH of the skin.
Astrodome Oxygen Facial with LED + NIR + Collagen Induction Therapy
75 minutes 
OxygenCeutical Astrodome Facial combines the essence of pure oxygen and cosmeceutical actives to effectively smooth sensitive skin and revive skin vitality through CIT. Containing patented elements "Coiz Oxygen Complex", the exclusive ingredients of COIZ applying fermentation method relieve the skin stress as well as soothe your skin. 
Plant based stem cells, peptides, epidermal growth factors (EGF) and botanical extracts are fed on skin through advanced ceutisome (TM) delivery technology. The Nano-technology cartridge (Collagen Induction Therapy) encompasses a total of 484 nano-silicones. This is the Nano-technology tip cartridge with the highest amount of mono-crystalline silicones in the industry.  
These microscopic hair-like cones create microscopic channels 0.15 mm in depth in the outermost layers of the skin, separating the cells within the epidermis to allow active ingredients to be pushed into the skin.
• No downtime
• Pleasant experience
Contraindications: Accutane, Skin Disorders, Skin Rashes, Prescription Retinols,  Active Acne